In case you missed it,
I'm having a baby in June
!
In my last post I wasn't quite ready to reveal the gender, but now that we've had a chance to tell our families I can share: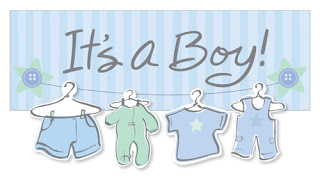 We wrapped up some teas, salt water taffy, and Ghirardelli chocolates with cards all in blue to send to our families for the reveal.
I may do weekly updates, but we know I can't really commit to any particular routine.
So here's the first of however many pregnancy updates I do:
1. How far along? 22 weeks
2. How big is baby? My Bump app says a papaya. My Ovia app says an ear of corn. He weighs about a pound.
3. Total weight gain/loss? I don't weigh myself at home, so I had a 3 pound total weight gain at my 20 week (no change from 16 to 20) and won't have an update on that until my next appointment.
4. Maternity Clothes? I am wearing all maternity bottoms and skirts, but can still wear some regular shirts and dresses.
5. Sleep? John claims the bed isn't big enough for me, him and my massive body pillow. I'm sleeping okay though - this week I've just been waking up a lot to sneeze. I'm having some pretty intense seasonal allergies.
6. Symptoms? I get nauseous sometimes in the morning which I think is related to how much food I eat when I take my vitamin. And the seasonal allergies.
7. Food cravings/aversion? Everything sweet. I just have a raging sweet tooth. No aversions.
8. Best moment this week? The hike we went on to Travertine Falls (kind of a misnomer, it's a pretty hike but you can barely say there's a waterfall). It was just nice to get out of the city, spend time all together with me, John, baby and Luna.
9. Bump:
Me, baby and Luna!
Questions, thoughts, advice?
Thanks for reading, see you soon.