If you're here because my lovely sister Shannon's been showing her love on facebook, she's referencing this post where I wrote about being on call (I love you Shannon!)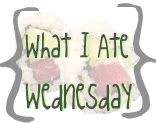 Hey friends, it's
What I Ate Wednesday
!
Breakfast:
Something we haven't seen for a little while. I brought back the
Strawberry Colada Oats
. Seriously my favorite bowl ever. Make it right now. Do not stop. Do not pass Go. I guess you can collect $200 if you want - but you have to split it with me.
Lunch:
Since my last WIAW post, I've started clinical rotations, so lunch is eaten while running through the hospital or at a noon meeting. The veganism of the food at meetings is usually a little questionable, but I just do my best. If there's something that's usually made without animal products, I just hope they've done it that way. Today it was rice, beans, salsa and tortillas at the M&M conference - for Morbidity and Mortality - we discuss complications of cases.
Snack:
I love my apples.
Dinner: I browned up some Cedar Lake Pecan and Grain cutlets with roast veggies. It looks small but there's 11 g of protein in each of those little guys and they're SO filling.
Dessert: I might have some yogurt and frozen blueberries a little later. We'll see. It's hot (90+ every day now) and my appetite has been small.
________________
Workout: 4 mile run in my new shoes. I didn't realize how worn my other ones were, but I was getting bad blisters and these are like walking on pillows. Asics GT series.
and for a final note...
WIWW: What I Wore Wednesday.
Can you see how much pillow is sewn into this shoe? It's like those craaaazy comfortable memory gel Nike flip-flops - but way cuter and could even be worn to work. I'm always on the lookout for something that doesn't make me look 60 and blind to wear on the wards when I'm not in scrubs, so I'm pretty excited about these.
Happy WIAW. What did you eat? Or wear?