It's What I Ate Wednesday!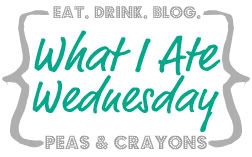 I'm on a basic science elective, so I've been packing lunches but have a pretty fair amount of time at home.
Breakfast: A favorite old staple. Banana peanut butter oatmeal. Black tea with milk. Did I mention I gave up coffee? I can't remember if I talked about that. I'm sure at some point I'll write a post on that on its own.
Lunch: Packed to go. Asian salad: baked tofu, edamame, cabbage, lettuce and carrot with a sesame soy ginger dressing. Apple.
For afternoon snack, trail mix. I was pretty hungry and had kind of a lot of this.
Dinner: Pasta bowl. That's whole wheat rotini with a couple Trader Joe's vegan meatballs, broccoli, carrots, marinara and topped with nutritional yeast.
And that's What I Ate.
My food lately has been not what I would like it to be - this is an example of a pretty good day, but I've been eating lots of grease and sugar lately and I'm paying for it in the way I feel. And the way my jeans fit.
Those graduation [May 26!] robes aren't exactly figure flattering, so here's hoping I can feel a little more myself by then.