Jiminy. Christmas. It's USMLE Step 1 score release day (I'll write a separate post about that in a bit once I've settled my feelings about it all). It's also
What I Ate Wednesday!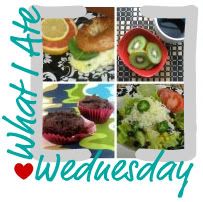 My attempts to check my scores today were rather frustrating - I was finally successful around 5 this afternoon. However, nothing cures electronic frustration like a good day of food.
Breakfast:
It's the middle of summer and H-O-T, so I've been loving yogurt bowls lately.
1/2 cup yogurt, 1/2 serving raisin bran, 1 nectarine, 1/2 banana
Lunch:
It's been long days of surgery lately, and I leave my lunch in the operating area locker room, so it can't be anything too perishable. If I'm with someone cognisant enough to realize I may need to eat, I actually get to go to the cafeteria and maybe see some of my friends and housemates that are on other rotations at the medical center.
It's been nice this week - the anesthesiologists encourage you to take lunch.
Not so much the surgeons. You might be able to eat a Clif bar if it's already in your pocket on a furtive duck into the locker room. They expect you to never need food. But don't even think of passing out. And if you do, fall away from the sterile field. They'll get to you when they can.
I forgot to take a pic of the finished product, but I made a tofurky sandwich - 4 slices - on Ezekiel bread with lettuce and mustard. Side of (unpictured) cherries.
Snack:
Odwalla bars were on sale recently, so I picked up this chocolate peanut butter protein version. I haven't eaten one of these
since
my
USMLE Step 1 debaucle
, so I thought the day my scores were released gave some fitting symmetry.
Dinner:
Keeping it light but filling tonight - Amy's Lentil soup (these are actually affordable at Target, elsewhere they're $3+ a can) and (unpictured) salad.
That is Jennifer Love Hewitt in the background. We recently found a channel that plays 3 episodes of Ghost Whisperer every weekday. Followed by 3 episodes of Without a Trace. I've been exercising remarkable restraint.
Friends are coming over soon to watch this week's
Bachelorette
and NOT talk about the numbers we've all seen today.
And finally, if I succeed in sorting out all the cases I need to prepare for my Friday lecture quiz, and all the rest of the anesthesia review questions, I get to read this:
It's been busy lately, but I haven't forgotten
I'm engaged.
It's been something happy to think about when things get dull or rough in the past month.