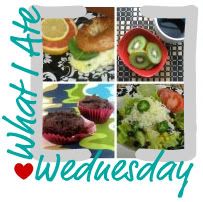 Happy What I Ate Wednesday friends and foodies.
Here's the bad news: I was on call last night, so I was up late and pretty snacky. I also brought cookies to share and ate a fair few of them - suffice it to say I felt gross when I woke up. Major sugar hangover, so I thought I'd take this opportunity to show you what a day of super-healthy feel-better eats might look like after some overindulgence.
Breakfast: A peach. I also had some orange juice before rounds. Okay, this doesn't look healthy [as in, not enough food], but it gets my little metabolism going without feeling like too much, considering I was still snacking at 11 pm last night. It gave me a chance to actually be hungry for lunchtime.
We label our fruit with initials because 4 of us live here and we share a fruit bowl. There wasn't a sticker on this one, so that's the explanation of the red marks to the left of the stem.
Morning Snack: Apple. Organic Gala post-health food store grocery shopping. Seriously like the best apple I've had in ages.
Lunch: New-to-me meal: Amy's Kitchen Black Eyed Peas with Veggies and Brown Rice. This was really good. I really wish they didn't cost so much.
Snack: Grapes. These were a favorite childhood snack, but I think it's been like a year since I last bought grapes.
Dinner: Homemade Curried Farm Vegetable soup.
Dessert: Frozen [soy] yogurt.
I'm pretty sure I got about 6 servings of fruit and 6 servings of vegetables today. I'm feeling way better - I think a high-produce day really helps turn it around when I haven't been eating well.
What do you like to eat when you wake up [sugar] hungover?