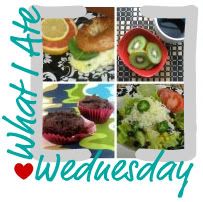 Happy What I Ate Wednesday Foodie Friends!
My current rotation is outpatient pediatrics, which is a big reduction in time commitment from inpatient and surgery (at least actively working - studying never changes). I usually have about an hour and a half for lunch, I get to eat breakfast while it's light outside and get home before six pretty much always.
Long story short: This WIAW all meals were actually consumed at home. For the next month this will be my schedule. Yes I am counting my blessings.
Breakfast: Yogurt Bowl - vanilla soy yogurt, golden flax cereal, strawbs (frozen), 1/2 banana, goji berries. And coffee.
Lunch: Warm (Vegan) Chicken Sandwich, Apple.
Dinner: Roast Sweet Potato Rounds - olive oil, rosemary, salt, roasted for 20 mins at 400 degrees, Tall Glass of Soymilk (unpictured). Nectarine.
This is a recycled picture...I didn't actually eat salad today. Just potato.
and nectarine.
I do not pretend this is really a balanced meal, but it's what I wanted. Sometimes I just don't question.
Dessert: Numi Decaf Black Vanilla Tea, with soymilk. This might be my favorite tea.
Workout: 3 mile run. Slow, but felt good.
Do you pack meals, buy meals, or are you able to eat them all at home if you want?