Hey all, Happy What I Ate Wednesday!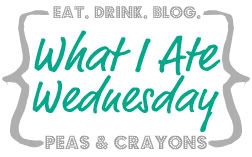 As always thanks to
Jenn
for hosting.
I'm super lucky right now to have my sisters visiting me for Spring Break. We're missing Shannon, but I'm headed to see her in a couple weeks.
Nicola, Me, Emma
Still sick. It's definitely now in the congestion stage. I have the worst time sleeping because I just keep waking up unable to breathe, I'm snoring, it's no fun. That's pretty much the worst of it right now though, I feel hazy during the day, bit of a headache, but I'm able to function.
I've been eating pretty weird lately, not getting hungry like I would usually expect and everything tastes weird, so I've just been eating what I feel like, usually around a meal time, so here's What I Ate Wednesday:
Breakfast: English muffin with almond butter and banana.
This one's an old favorite that I love. Lately I've been breakfasting over work - that's a Pediatrics article and my rotation checklist in the background. While my sisters are here though I will try to do something more fun.
Lunch: Monroe's Calabacitas Fajitas.
I get them steamed. SO much food and so good. They have my favorite salsa here in Albuquerque too.
Dinner: Soup and homemade sweet potato fries. This soup is from Costco, the veggie quinoa one from the refrigerated section. I've been really impressed with these - plenty of vegetables and they hold up well to add ins. The fries are just sweet potato sticks roasted 20 mins at 425 with oil, salt and rosemary. I like them with BBQ sauce, mustard and ketchup.
And several of these:
Snacks are sort of missing from this particular day, but my cold has really been messing with my hunger levels so I'm just doing my best.
Now I'm trying to cram in as much time as possible with my sisters while still having lots of work obligations.
Happy Wednesday, hope it's great!