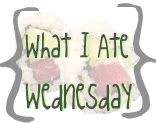 Happy Wednesday friends!
This is my first official participation in the
What I Ate Wednesday (WIAW) party
(check it out at Peas and Crayons!), though often my posts tend in that direction, and I have been known to do a
Thorough Thursday
or
two.
It's much more fun all linked up to so many other people.
Breakfast (8:30 am)
: Backyard Bowls' oatmeal with strawberries. If I'm in Santa Barbara for more than a day, it seems like I usually make it to breakfast here. Boyfriend got the Berry Bowl, more of a smoothie in a bowl with granola/fruit topping.
Snacks (3:45 pm): 1 square Lindt 90% Cacao Dark (okay, that is dark, but awesome, thanks Arisa!), a fuji apple, Starbucks Vanilla Roiboos Soy Tea Latte - a date with my lovely friend Bri.
Dinner (7 pm):
Leftover Pineapple Red Curry with Brown Rice from Your Place on
Monday night.
Did you notice? Yeah...Lunch is missing. I don't know if it's the fun of vacation or my ridiculously delicious breakfast or a substantial dinner last night, but I just didn't get hungry. At all. Until my snacks close to 4, and even then it felt like I was forcing it on my stomach. I feel great, not sick or anything, some days are just weird like that I guess.
Extras: This. Hydration is important. Bonus points when it's so dang delicious.
Your turn! What'd you eat today?