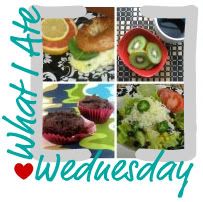 As always a big thanks to Jenn at Peas and Crayons!
This time next week I'll be on a very long drive back to Southern California, so it's my last Wednesday here in the Northwest. The Family Medicine rotation will end, I'll take a couple tests, and then it's on to Internal Medicine.
Here in Portland it's like the vegan promised land - there are way more restaurant options than Loma Linda, and my badge gets me food at the vegan bistro, but there's not much of a kitchen, so my eating habits have really shifted to much less home-prepared things (except when I'm home with my family).
I've loved trying so many new things, but I have missed my nice kitchen. I'm in no rush and I'll be sad to leave, but it's nice to have that to look forward to. Today though is another day of eating out.
I woke up to this outside my window. Okay, it's nothing if you're from New England, but it's a big deal when I've been in Southern California for 7 years.
And it's my day off, so I didn't have to drive in it.
Breakfast: Pecan Sticky Bun, Fresh fruit.
From the Living Well Bistro. I've been eyeing the bakery case here for a while, and as it's my day off, I decided to celebrate with something a little sweeter for breakfast. The best part was definitely the pecans on top.
Lunch: Black Bean Veggie Wrap.
Also from the Living Well Bistro. I'm an addict. This was very fresh and didn't look like that much, but surprisingly filling. I probably would have been happy with half.
Dinner: Portobello Pizza.
This has portobello, daiya mozzerella, marinara and carmelized onions on crispy naan - baked in a brick oven. I wish the picture were prettier, but I took it to go, in the dark. When she gave it to me, the woman at the restaurant said, "It's perfectly done. You can tell by the way it slices." And she was right.
Snack: An apple.
Look out for next week ... a day of road trip eating.
Do you mostly eat out or home-cooked?