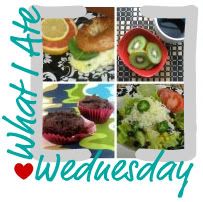 As always a big thanks to Jenn at Peas and Crayons!
Living here in Portland for my Family Medicine rotation has me pretty much continually blown away by all the food options I have. I can't even believe how easy it is to find a vegan place here.
So...What I Ate Wednesday, In Portland.
Breakfast: Living Well Bistro Oatmeal.
This was all right, but the
parfait I wrote about recently
is
way
better. I think for oatmeal I'll stick to what I've perfected on my own.
And I'm still drinking coffee out of a Christmas mug. I don't let go easily.
Lunch: Curry Vegan Wrap. From the hospital cafeteria. This was really good, but a little too small (my fault I didn't even notice) - I should've brought a side or something. Lunch had to be portable because I took it to clinic.
Dinner: THE BEST Veggie Burger Of. My. Life. This is the Smokey Bleu from Off the Griddle. It's a food truck, but fortunately for me there's a heated seating area where I could wait for it to be made, because Portland's a lot colder than Southern California.
Dave's Killer Hamburger Bun, Spinach, House Veggie Burger, Bleu Cheese (Tofu I think, but you could tell me it was real cheese, and I'd believe you), Tempeh, Housemade Pickles, and Onion.
The other side.
You can't escape little buddy.
Dessert: 1/2 Banana. Okay that's a fake dessert. It's the new year, I'm getting my healthy on.
Best burger of your life?