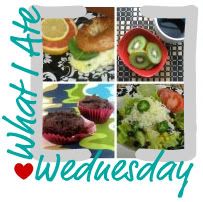 Welcome to the final chapter of the What I Ate Wednesday/Vegan Month of Food 2011 crossover. As always a big thanks to Jenn at Peas and Crayons.
Guess what I did today?
See the band-aid? Woooo flu shot! Got yours yet? Do it. For my not so regular readers - Hi. I'm Kari. I'm a med student, so I don't have a choice about whether I get one or not, but still - you help protect everyone around you as well. Get yourself a shot. (
Medically interested? Check out my latest post about my pediatrics rotation on the medical student blog here.)
It was literally the first shot the girl who did it had ever given (they let the beginning pharmacy students practice on us medical students), but she did a great job. The first shot I gave was to a seven year old boy who reached around and pulled the needle out of his arm - forcing me to stick him twice, so I'm pretty sure I made her first one significantly more calm than that.
For those who've hopped on over but don't regularly follow along, I mentioned
last WIAW
about the difficulty I was having feeling like a failure/crying so hard my nose bled all over my car etc. I wouldn't say that situation has completely resolved, but my nerves have calmed down a bit since the change to an elective where I'm evaluated less and there's less opportunity for me to misconstrue "formative comments" as personal attacks. I'm hoping by the time I start OB/Gyn shortly I'll have had enough of a break to be more my normal self.
For these two weeks of elective I'm observing therapy and meals at the partial hospital eating disorder treatment program. It's 7 hours a day, 5 days a week, including 2 meals, or for those on intensive outpatient (IOP) it's 4 hours a day or less days a week or both.
Mostly we've been sitting in on therapy and today I ate my first meal with the patients. It's been a little strange because while I think I'm learning a lot of "medical student things" about the mindsets of these patients, types of therapy, what labs we do and what they mean and how a program like this runs - I also feel like I'm absorbing a lot that can help me in my own life. Even though they're in treatment for eating disorders, and there's the occasional nutrition education most of the therapy is geared towards the why and the prevention and repairing the self-image - about feelings.
Although I'm not currently manifesting eating disorder behaviors, I catch myself beating up on my self-worth a lot. I think observing this kind of therapy - something so encouraging in building a positive self-image - has made me realize the way I treat myself in my head isn't really something I should continue to accept. I guess I've just been more mindful lately of the negative messages I tell myself (the kind that make me cry so hard my nose bleeds.)
It's also made me more appreciative of my ability to enjoy food without it making me feel anxious or guilty. It hasn't always been that way for me, but I've come a long way and I'm being reminded of that.
So ... after plenty of ado, WIAW:
Breakfast: Angela's Vegan Pumpkin Overnight Oats.
It was my first time trying this preparation - I had never used chia seeds before and I follow a couple bloggers who don't really like them so I was a little skeptical - but this was amazing. Seriously like a pumpkin pie pudding - but healthy. I topped it with a little brown sugar. And my usual morning coffee with soymilk.
Lunch: Black Bean/Avocado/Tomato Burrito and Apple. This was the meal I ate with the patients, so I don't have an actual picture of it. I felt like it would be inappropriate to snap one when we're supposed to be taking the focus off the food and putting it onto healthy lifestyle and relationships - so this is an old picture of a Chipotle burrito, and it looked pretty similar, with a few less ingredients (and smaller).
Snack: Diet coke from a wine glass. Yeah it's a wild Wednesday. I also had a "beegan" (with honey) granola bar, but in keeping with Vegan MoFo rules, I won't put up a picture of that.
Seriously! Flu shot! Also, take a second to ask yourself - are you letting your mind give you negative messages? If so, why? Don't accept that.