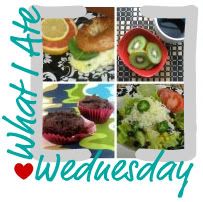 Vegan Month of Food continues, and today we get a little WIAW crossover. So what's a full day of eats during Vegan MoFo look like? Like this.
Breakfast: Oatmeal. With peach, strawberries and goji berries. Unfortunately there was an overflow accident and lots ended up on the bottom of my microwave. I recently switched to the 5-min kind from the quick-cook kind (huge difference, I can't believe it took me this long) and I haven't really mastered the microwave timing yet. Plus coffee per usual.
Disaster in my kitchen. Now it's a typical morning.
Lunch: Chopped Farmer's Market Veggie Salad with Hummus. I went back after these pictures and added at least 4 times the amount of hummus. It was artichoke-style, also from the farmer's market. I think hummus is a very underutilized salad topping.
Farmer's market haul.
Dinner: Gardein Chicken Tenders, Leftover Tzimmes from
Cooking Time Audit #1
. Even Fiance John (omnivorous) thought these vegan chicken tenders were pretty good. They're very crispy - like everything I liked about chicken nuggets as a non-completely-vegetarian kid, minus the now-unappetizing idea of actual chicken. With mustard and vegan BBQ sauce.
Snack (unpictured): Green tea with a pump of vanilla coffee flavor and soymilk, chocolate chips, apple.
Your turn: what's on your daily menu?